A Diagnosis is Just the Beginning: 2nd Annual Spondyloarthritis In America Survey
Living each day with axial spondyloarthritis (AxSpA) is a battle: people with both ankylosing spondylitis (also called radiographic AxSpA) and non-radiographic AxSpA must fight to be heard and understood. From seeing multiple doctors, to getting tests done over and over again, to trying new treatments that may not even provide relief -- there's no other way to put it: those who live with AxSpA are in a battle.
The confusing journey of a diagnosis
We heard from people who live with ankylosing spondylitis, non-radiographic axial spondyloarthritis, and undifferentiated axial spondyloarthritis. 67 percent of respondents reported having ankylosing spondylitis (AS), 9 percent reported having non-radiographic axial spondyloarthritis (nr-AxSpA), and 9 percent reported having generalized spondyloarthritis (GS). However, 15 percent of respondents were unsure of their diagnosis and reported possibly being diagnosed with something else.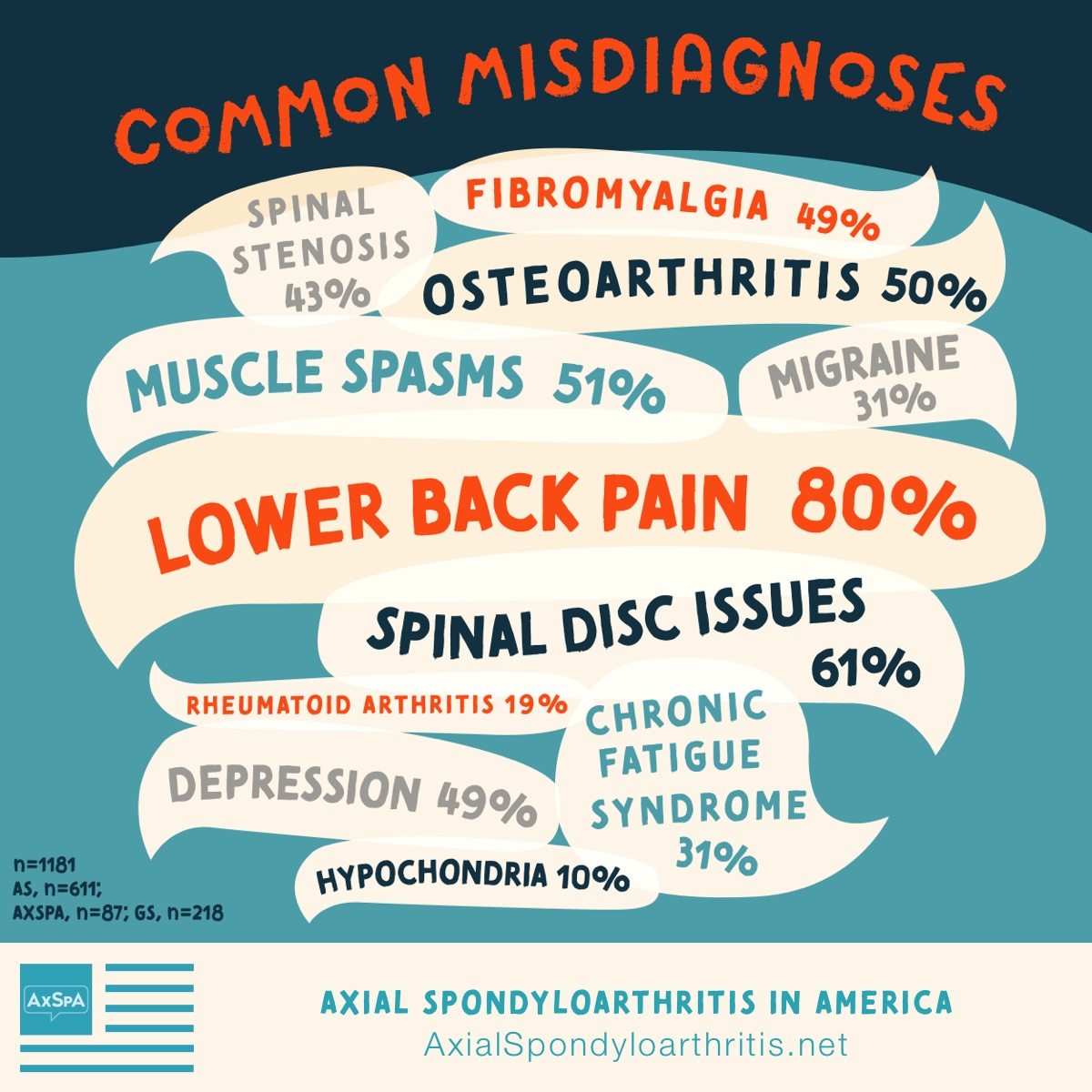 There's no easy way to put it: the journey to a diagnosis can be really hard. The average time between symptom onset and a proper diagnosis is about 13 years. That means 13 years of seeing different doctors and getting different tests, all while having lots of pain, fatigue, brain fog, and more. 92 percent of respondents saw more than one healthcare provider before their diagnosis, and 18 percent of respondents saw 10 or more doctors before their diagnosis.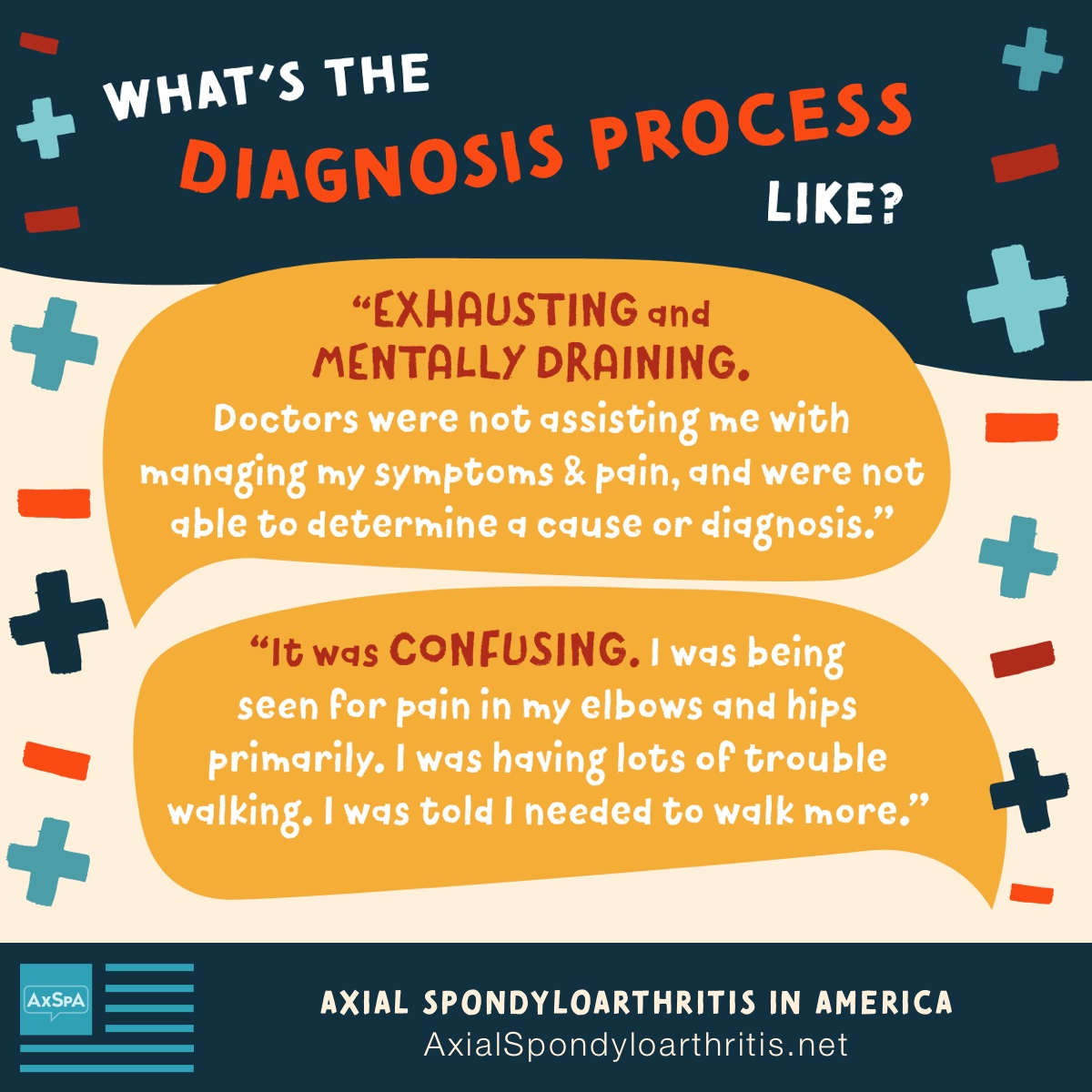 A diagnosis doesn't mean relief
Many people hope they will find relief after their diagnosis. A diagnosis often means that it's time to start treatment for debilitating symptoms: of those who responded to our survey, 95 percent reported back pain, 92 percent reported fatigue, and 86 percent reported swollen and stiff joints. But oftentimes, people undergoing treatment did not find the relief they were hoping for.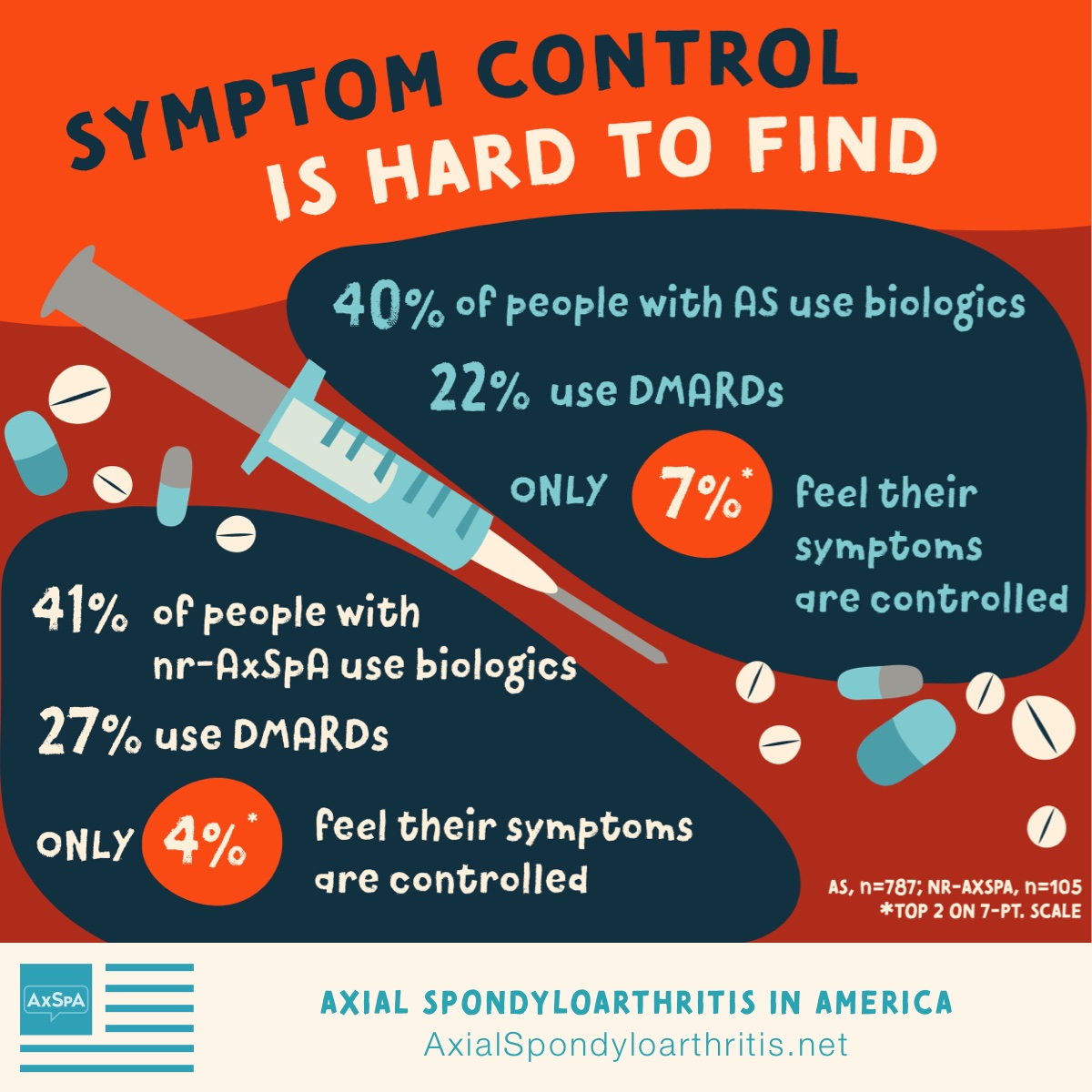 Trying all types of treatments
In addition to taking prescription medications, respondents have tried many other treatments and lifestyle changes to manage their symptoms. 24 percent of respondents have tried to change what they eat, and respondents have reported trying the keto diet, vegan diet, going gluten-free, low-fat, and more. Not only have people changed their diets, but 48 percent of respondents have changed their exercise habits: they've tried aquatic therapy, yoga, bike riding, stretching, pilates, and even lifting weights.
When biologics and the other prescription medications aren't providing relief, respondents try other methods - and they're willing to make significant changes to their daily life.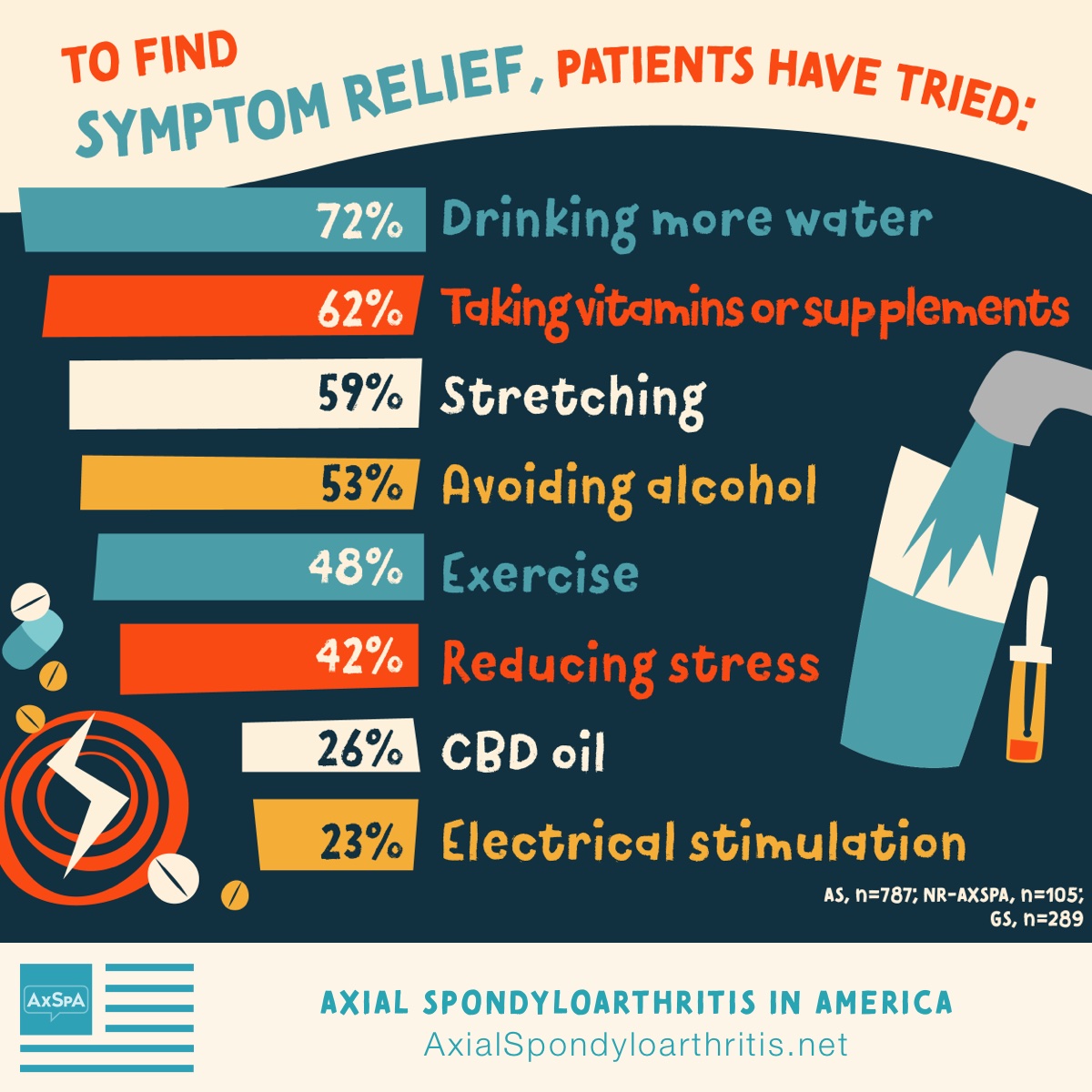 When surgery is unsuccessful
Those who took our survey have also tried surgery to find symptom relief. Just over a third (36 percent) of all respondents have had surgery to help with their symptoms. The most common surgery that people tried was a laminectomy, reported by 13 percent of respondents. But sadly, many reported that surgical procedures did not relieve their symptoms.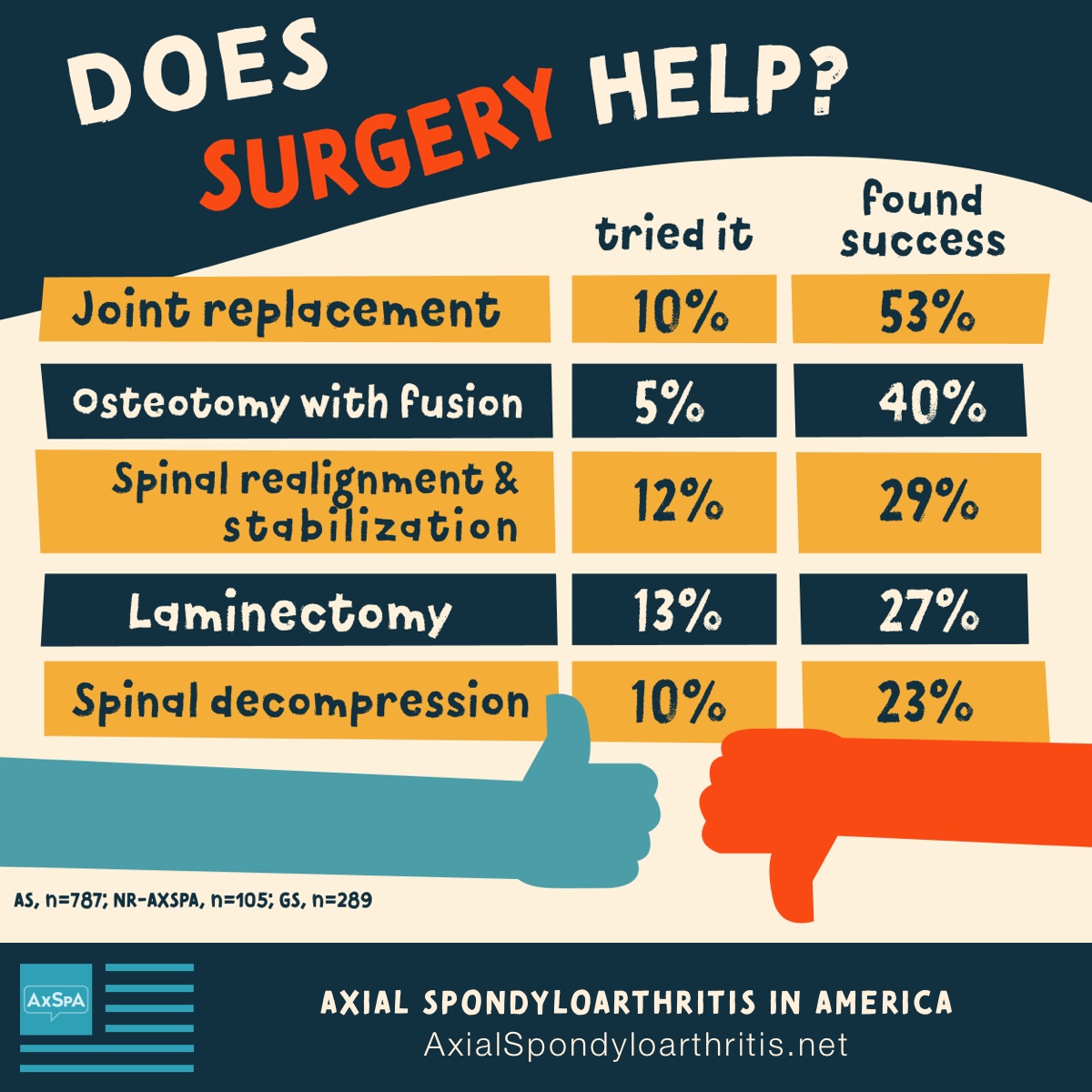 The impact on careers, finances, and mental health
Respondents shared that living with a condition that can cause unpredictable and chronic pain has significant effects on their quality of life. Our respondents need support: 54 percent of respondents need emotional support, 53 percent need help with household duties, and 38 percent need support with shopping for essentials. But sadly, only 30 percent of AS and 25 percent of nr-AxSpA patients* feel their family and friends take their pain seriously.
Since receiving a formal diagnosis, patients shared both positive and negative effects on mental health. Some patients appreciated the relief of finally receiving a diagnosis and understanding their pain. But, the impact is negative for the majority of respondents. They report increased depression and anxiety, feelings of isolation and withdrawal from everyday life, and a need for more mental health support.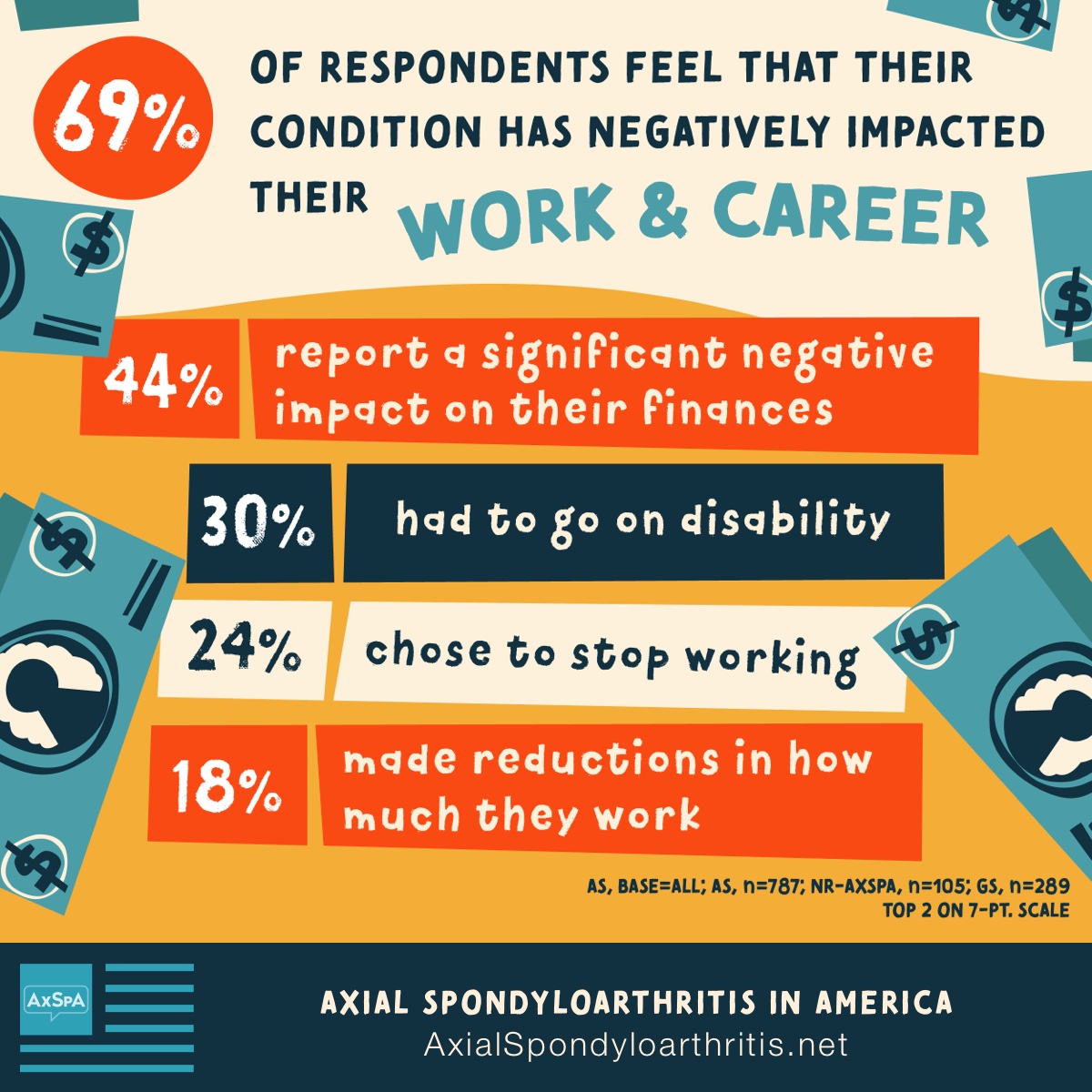 Spondyloarthritis affects every aspect of a person's life, but those who live with it aren't alone. This community is here to provide support, validation, and a space to just vent. There is power in sharing chronic illness stories, and AxialSpondyloarthritis.net will continue to provide a place for just that.
The Ankylosing Spondylitis/Axial Spondyloarthritis In America Survey was conducted online from March through July of 2020. Of the 1,181 people who completed the survey, 787 were people who have been diagnosed with ankylosing spondylitis, 289 people who were classified as generalized spondyloarthritis, 105 were people diagnosed with non-radiographic axial spondyloarthritis, and none were caregivers of people with ankylosing spondylitis/axial spondyloarthritis.

Community Poll
Can you tell when a flare is coming?