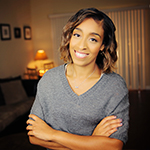 Brooke was previously a health leader.
In 2009, Brooke Abbott traded in her production notebook for a diaper bag with the birth of her son, Jaxon Lee Coltrane. While navigating through motherhood, Brooke began to tweet about her adventures with her newborn with the hashtag, #CrazyCreoleMommy. The stories behind her tweets and Facebook statuses grew larger than the allotted 140 characters and by 2011, her new life needed it's own vehicle. In January 2012, The Crazy Creole Mommy Chronicles were born.
In 2008, Brooke was diagnosed with Left-sided Ulcerative Colitis. Though it was a mild case at diagnosis, the disease rapidly advanced over a period of 4 years. In April 2012, Brooke was given a total colectomy after spending weeks in the hospital fighting a losing battle with her diseased colon. She was given an Ostomy for five months, as a transition into receiving her JPouch.
She now lives with an internal J-Pouch and her health continues to change for the better. Before her life as a mother, Brooke worked in film and television production and her passion for the arts and filmmaking spread into other adventures such as photography, writing and acting. With the takeover of motherhood & colitis, Brooke's work in production halted however, Brooke continues to photograph. Working under the name, bonzaibaby Photography, Brooke has photographed for celebrities such as Holly Robinson Peete, Alfonso Riberio, Valarie Pettiford & Arthel Neville.
Brooke is a single mother of child actor, Jaxon Honeycutt & they currently reside in Los Angeles. She is the creator and blogger for The Crazy Creole Mommy Chronicles. She owns & operates, The Crazy Creole Mommy Life, Inc. She is an health legislative & lifestyle advocate. Often representing the Crohn's & Colitis Foundation & The Digestive Disease National Coalition on Capitol Hill in Washington D.C. Brooke is also member of the Janssen Pharmaceutical sponsored advocacy group, the IBD Social Circle. Brooke has written for EverydayHealth.com, CrohnsDisease.com, The Right Start blog, Single Mom Planet, Mommybites, The Toddler Blog, Club MomMe, Mom.Me and more. She is a long time supporter of The HollyRod Foundation & often hosts social media for their large fundraiser, DesignCare. Brooke has been featured in The Phoenix Ostomy Magazine, Everyday Health, US Weekly, LifeScript, LA Parent, Ostomy
Connection, Prevention Magazine, A Women's Health & CCFA.org.
Click here to read all of Brooke's articles on AxialSpondyloarthritis.net.