Joy Tilbrook
Last updated: November 2023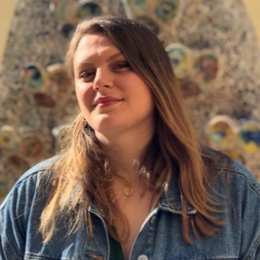 Joy works for a disability charity and lives in London. After having symptoms throughout her teens and early twenties, Joy's symptoms intensified at the start of covid lockdown at in 2020. Joy was diagnosed with ankylosing spondylitis in 2021, aged 24, and later developed fibromyalgia in 2022.
Since diagnosis, Joy started biologics which have reduced her pain and stiffness. She also used mobility aids and takes a lot of baths to manage pain.
Joy's used to work in the coffee industry, but her lived experience and search for accessible employment led her to change careers. She now works at a local disability charity which uses the social model of disability. Joy works as an independent advocate and support planner for disabled people, supporting them to have more independence and control over their lives and uphold their rights. She also works on a project providing advocacy for victims of disability hate crime.
Joy's hobby is pottery and she enjoys making and painting ceramics at her local shared studio.