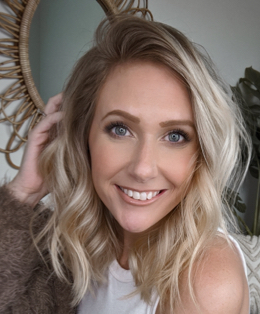 In December of 2018, Katie developed a rare infection in her jaw after a standard wisdom tooth removal (osteomyelitis of the mandible). After months of being on oral antibiotics and two failed procedures to clear the infection, Katie had to have a PICC line put in for 12 weeks and receive daily IV antibiotics. During that period she started suffering from random aches and pains and extreme fatigue but assumed it was all in relation to her infection. After the infection cleared the fatigue and pains only got worse, especially in her lower back and hips. Katie finally decided it was time to see a Dr. in October of 2019 after experiencing multiple episodes of not being able to stand up after sitting and not being able to walk.
Katie came back HLA-B27 positive and was referred to a rheumatologist. After being told by the first rheumatologist it was "highly unlikely" she could have AS as it is a "man's disease", Katie took it upon herself to get a second opinion. She was officially diagnosed in November, exactly one day after her 30th birthday and started Humira shortly after.
Since being diagnosed Katie has been overwhelmed by the amount of love and support she has received from within the chronic illness community. Being diagnosed with AS (and now fibromyalgia as well) has given her a new perspective on life and how she wants to live it. Katie shares her story in hopes that she can help others in the way that this community helped her. In her free time she enjoys spending time with her husband and children, dabbling in makeup and hair, and lives for a good (quiet) bubble bath!
Click here to read all of Katie's articles on AxialSpondyloarthritis.net.