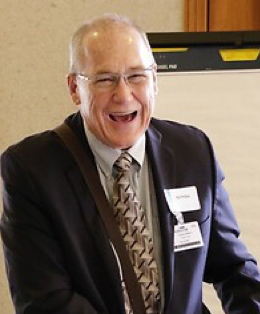 Rick has spent over 30 years in local government and local school district administration in Indiana. He has, at various times, been a Director of Finance, City Controller, Personnel Director, Development Director, and all-around computer guy (that position lasted one year).
He grew up and lives in central Indiana with his wife Sheryl of more than 40 years. They have two sons and three grandchildren. Rick was diagnosed with type 1 diabetes in 1974 and rheumatoid arthritis in 2000. He was also diagnosed with ankylosing spondylitis in 2015. Rick has used six biologic medications and has had several surgeries related to RA.
He was diagnosed with AS in 2015, and at that time he vowed to live until he has at least five autoimmune diseases. Hey, a man needs a goal. Rick loves to ride his bicycle, not far or fast, but for fun. Rick often writes about RA and diabetes issues on his website, RADiabetes.com. He will discuss his grandchildren, given even a slight chance. Rick credits his father and years of work in the public sector for his dry sense of humor. He earned his BS and MS from Indiana University in 1979 and 1989, respectively and an Ed.D. from Nova Southeastern University in 2012.
Click here to read all of Rick's articles on AxialSpondyloarthritis.net.