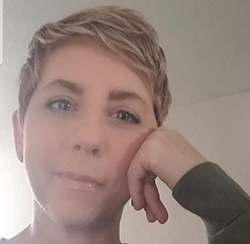 I am a 52-year-old medical language specialist, primary education commenced at Buffalo Academy for Visual and Performing Arts, with a B.F.A. in modern dance from SUNY. My early dance training, father's love of poetry and music, and mother's piano playing have inspired my unabridged love of the arts, and are instrumental in nurturing my unique artistic talents over the years.
Though I suffered from underlying inflammatory issues early in life, it was in my 30's that my energetic life spiraled downward and where I became overwhelmed with health issues and tribulations. Over the last 3 decades, I have gradually educated and guided myself through the maze of medical fields, diagnoses, and treatments necessary to manage the incurable disease of inflammatory arthritis. And, only in the last 6 years, after a severe flare, have I truly begun to understand what living with constant and unrelenting pain and fatigue is about.
Personal interests include cinema, theater, writing, fine art, decorating, designing, photography, and cooking as well as a deep attentiveness for animal rights and wellbeing. Each artistic and philosophical interest is fundamental to the effective therapeutic experiences I have embarked upon over the years as I continue to fight to maintain normalcy while tackling spondyloarthritis.
Prior to diagnosis, I had a very little issue maintaining a busy life. But, presently based at home on leave from the workforce, I enjoy being in my art room discovering and creating, slowly healing through the arts, as well as writing about my chronic health experiences. I also thoroughly enjoy doting on my 2 dogs daily that, as support animals, unwaveringly assist me through painful periods of my disease and lowest ebbs and flow in life.
At this point, I am intensely focused on getting myself well through the many therapies and supportive communities available so that I can continue living a meaningful life. Every day is a battle with inflammatory arthritis. And, though it has been difficult at times, I easily share my story so that others have the courage to navigate through illness as I have. I hope I am able to offer a ray of hope and inspiration to those who tune in as I uncover what life is all about living with spondyloarthritis.
Click here to read all of Rebecca's articles on AxialSpondyloarthritis.net.