Rebecca Cappello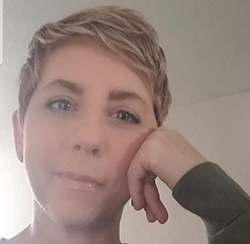 I am a 50-year-old medical language specialist with a B.F.A. in modern dance from SUNY Brockport. I grew up in Buffalo, New York. During my early education, I attended the Buffalo Academy for Visual and Performing Arts where I received many accolades and scholarships for my talent and work. Proudly, I graduated in the top 5% of my class.
My personal interests include all forms of dance, poetry, music, cinema, theater, fine art, decorating, designing, photography, and cooking. Before being diagnosed 4 years ago with non-radiographic-axial spondyloarthropathy, I had no problem keeping up with these interests. I had been very active in teaching toddlers to dance, performing in theater, and working. I was very involved with my young family (husband, son, and daughter), my hobbies, and just … living. Soon, my energetic life slowly spiraled into health and wellness visits and various medicinal trials.
Having worked in the medical field as a transcriber and assisting others with biologics inquiries, I was confident in navigating the difficult health care system to begin to heal and manage my own body. Today, I am still learning what my body needs! I hope I can offer a ray of hope and inspiration to those who tune in as I share about my life with nr-AxSpA.
Click here to read all of Rebecca's articles on AxialSpondyloarthritis.net