A Look At The Difficult Journey of Spondyloarthritis Treatment
Last updated: September 2023
Many people outside of the axial spondyloarthritis (AxSpA) community do not understand that "treatment" is a full sentence. The symptoms of spondyloarthritis are ever-changing, full-body, and, oftentimes, not well understood. A person's journey to finding a treatment that works for them can take years or even decades – and this journey may require a trusted rheumatologist (which can be hard to find), a support system (also sometimes tough to find), and a lot of trial and error.
It's time to make the hardships of this journey more well-known.
What medications are people taking for axial spondyloarthritis?
People who live with spondyloarthritis may take many medicines. In fact, nearly all respondents in our 2nd Spondyloarthritis In America Survey report currently using prescription pain medicine, an NSAID, Tylenol, or a muscle relaxant. Additionally, both oral steroids and steroid injections have been used for short-term pain reduction by at least 6 in 10 respondents.
There are numerous medicines that can be used to treat spondyloarthritis pain and symptoms. But year after year, the most commonly discussed treatment in our community is biologics.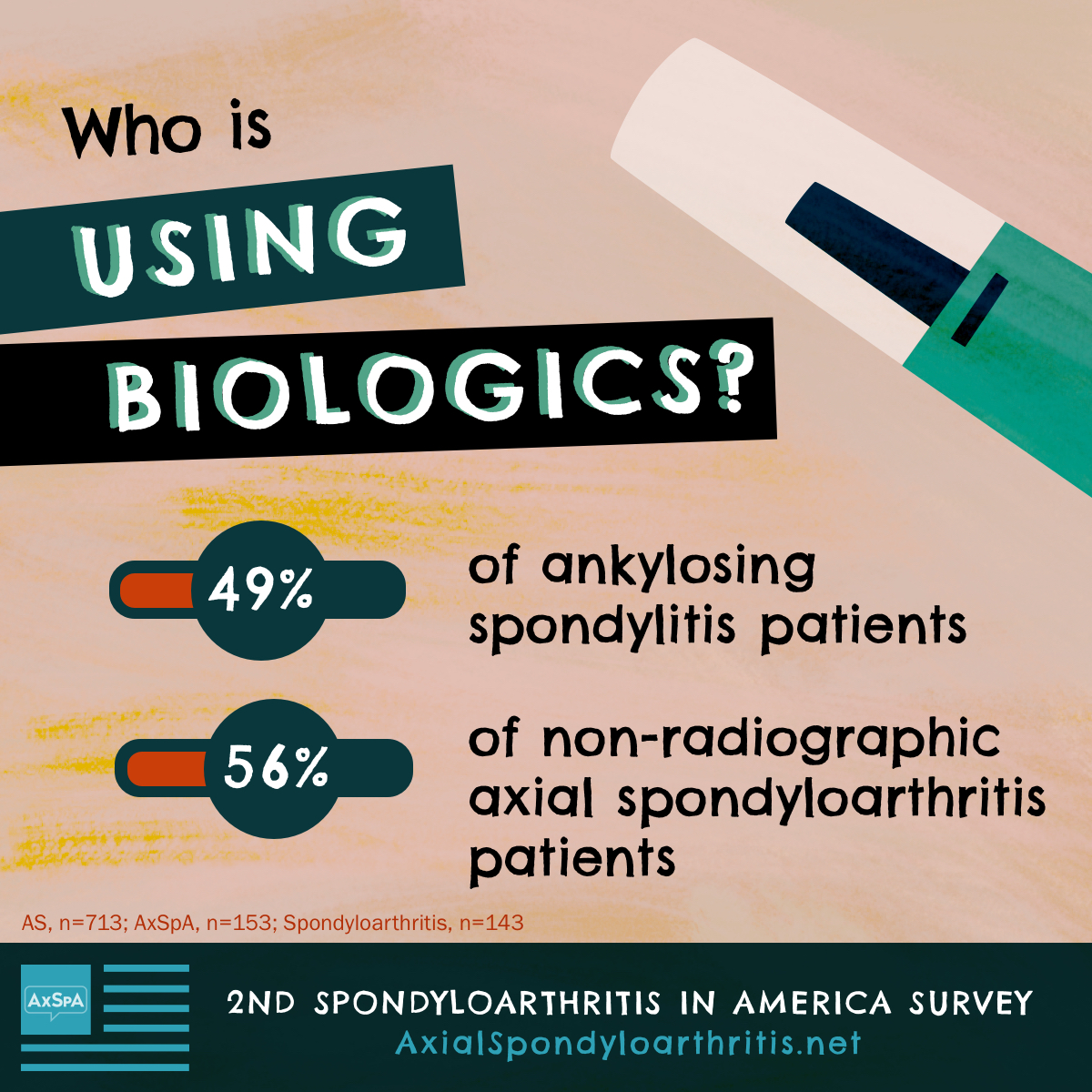 Biologics and symptom management
Despite around half of AS and nr-AxSpA respondents reporting that they take a biologic, nearly all respondents feel their symptoms are not controlled on their current treatment plan. In fact, only 6 percent of AS respondents and 7 percent of nr-AxSpA respondents feel that their symptoms are well-controlled.
Additionally, people who currently take biologics report similar symptoms as those who do not currently take them.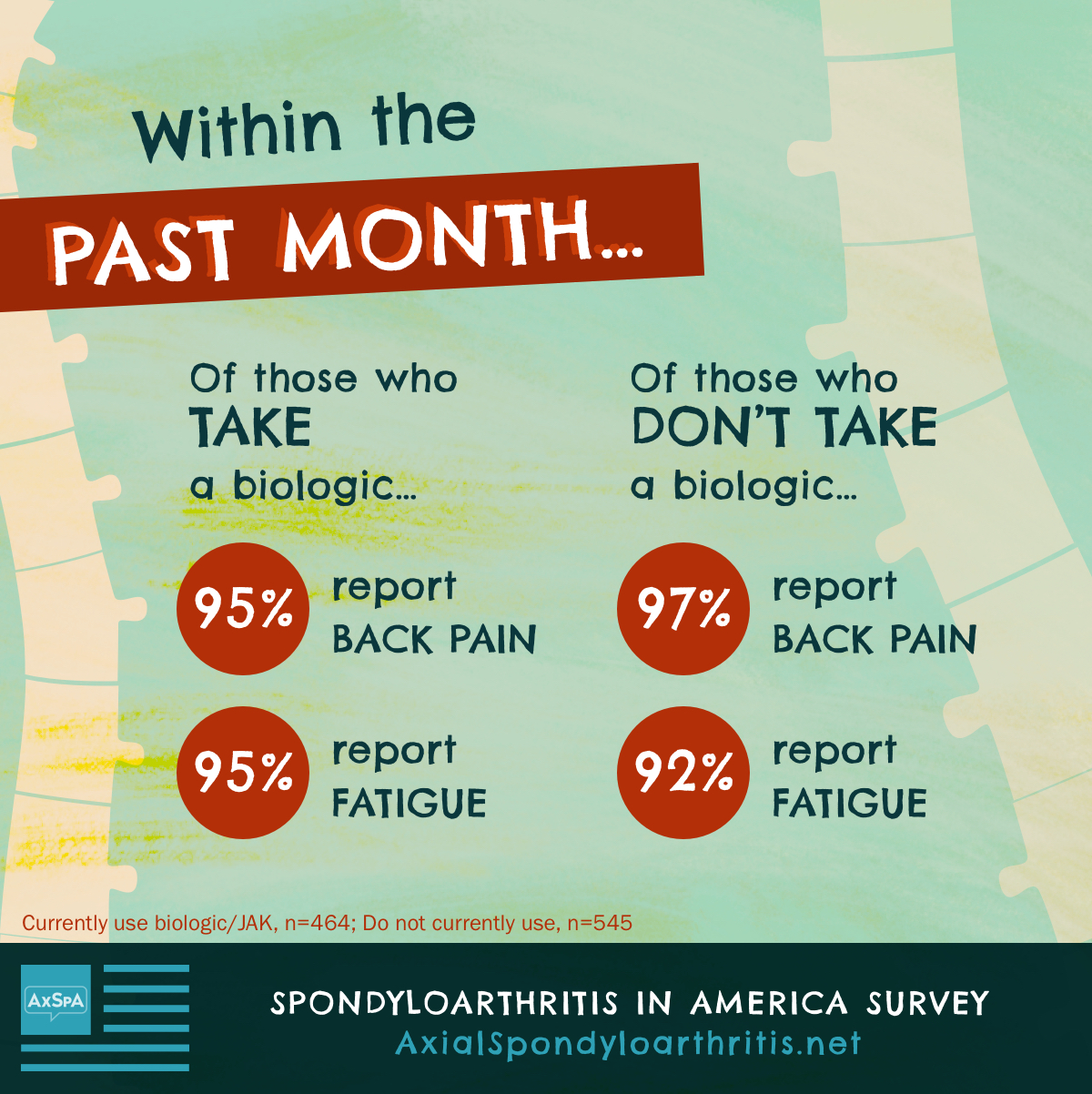 Despite experiencing similar symptoms, those who take biologics report less severe symptoms than those who do not take biologics (according to the BASDAI scale, which measures AS symptoms).
Symptoms are unpredictable
Given the lack of symptom control from their medicines, it is no wonder that 81 percent of respondents feel their spondyloarthritis stops them from doing things other people their age can do.
One respondent was most troubled by the lack of predictability of their disease, stating, "[My symptoms] can change from day to day and sometimes from morning to night. I can feel amazing and then feel awful 12 to 24 hours later, and then feel amazing again 12 to 24 hours [later]."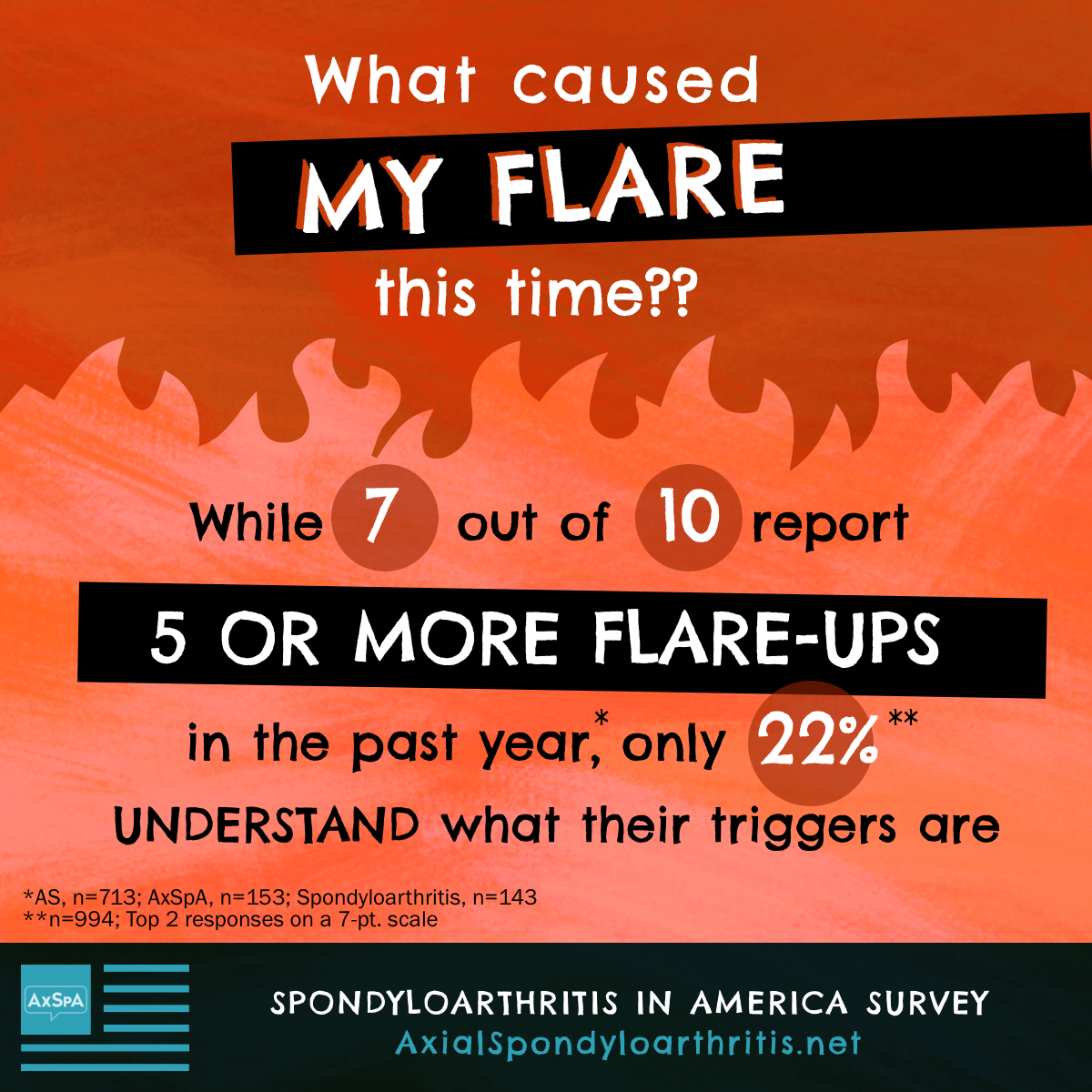 Despite it all, you are not alone
It often feels that there is no upside to this condition, but you do not have to go through this alone. We have an ever-growing and vibrant community of people who live with axial spondyloarthritis right on this site. And despite daily pain, fatigue, and brain fog, respondents shared some advice below.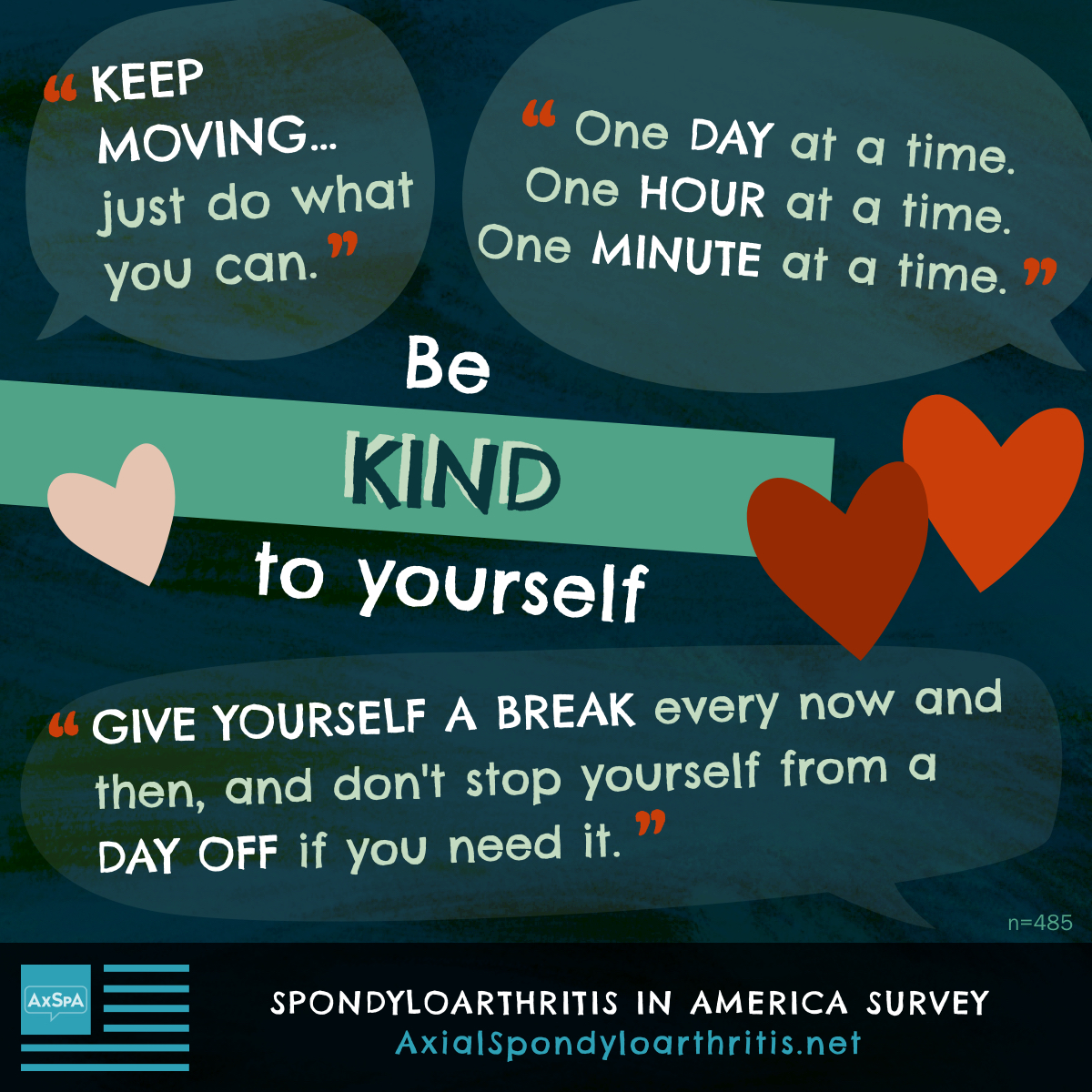 Does any of this sound familiar to you? Share your experience with axial spondyloarthritis treatment in the comments below.
This article represents the opinions, thoughts, and experiences of the author; none of this content has been paid for by any advertiser. The AxialSpondyloarthritis.net team does not recommend or endorse any products or treatments discussed herein. Learn more about how we maintain editorial integrity
here
.

Community Poll
Has changing your diet helped manage your pain and flares?