Foam Roller Basics and Stretching
Editor's note: Please speak with your doctor before starting any new exercise program.
A foam roller is a wonderful piece of exercise equipment that can be used in multiple ways, and to address a myriad of aches and pains. In my practice as a physical therapist, and as an individual with ankylosing spondylitis, I use a foam roller almost daily.
A foam roller is a cylindrical tube made of dense foam. They come in different lengths (12 to 36 inches) depending on what you want to use it for. The density also varies. Typically the color signifies the density but this is not always universal. Less dense foam rolls are usually white in color, more dense foam rollers are usually black in color. Just as the different lengths have different uses, the same goes for the density. For instance, if you tend to be more sensitive to touch choose a lighter density foam roller. More dense foam is not going to give, and will provide more pressure to muscles and joints.
Foam rollers can be used for: rolling out tight muscles, trigger point release, stretching, self-joint mobilizations, and even abdominal strengthening. This article will focus on use of the foam roller for stretching.
Foam roll stretching series
For the exercises I address below I would recommend using a foam roller with a length of 36 inches, in most people this allows for the head and entire spine to be supported when laying on it lengthwise. The standard diameter is 6 inches.
Tips
Make sure your entire spine is supported from the back of the head to the tailbone
If the foam roller feels too hard or uncomfortable, place a small pillow under your head and under your tailbone
Keep your chin tucked down slightly to prevent neck discomfort
Tuck your hips under to ensure your low back is flat, and to engage the abdominals
Maintain the knees bent to keep the low back from arching
Benefits
Mobilization of the spinal bones especially the thoracic/middle spine
Chest flexibility
Shoulder flexibility
Mid-back strength
Improved posture
"T" stretch
Lay on the foam roller lengthwise and place both your arms out to the sides at shoulder height, palms facing up. Relax your shoulders. Hold about 1 minute.
Modification: If the pull on your chest is too much, or you feel tingling in your hands, lower your arms slightly (60 degrees from your sides versus 90 degrees)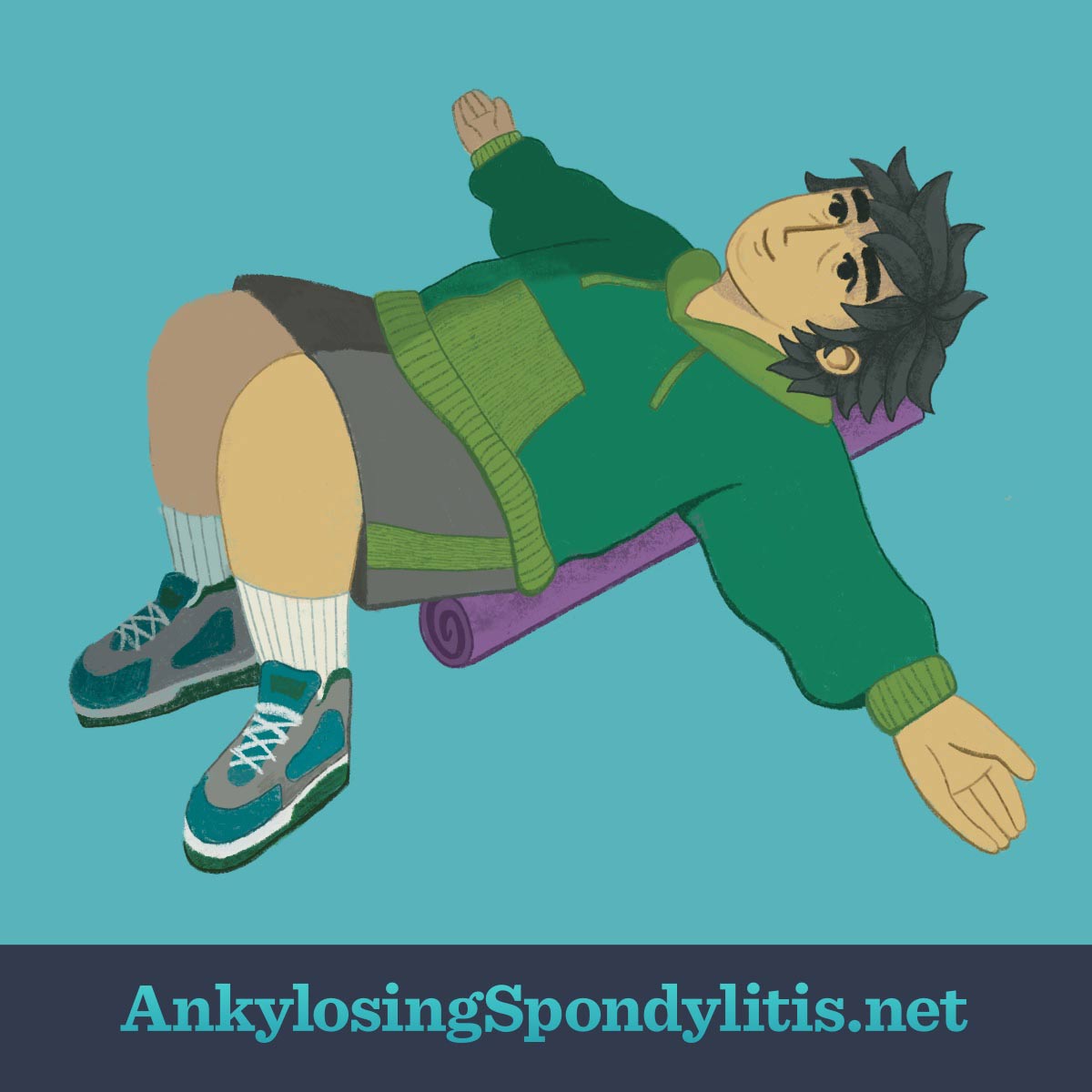 "W" stretch
Lay on the foam roller lengthwise and place both your arms out to the sides at shoulder height, palms facing out, and bend your elbows. Relax your shoulders.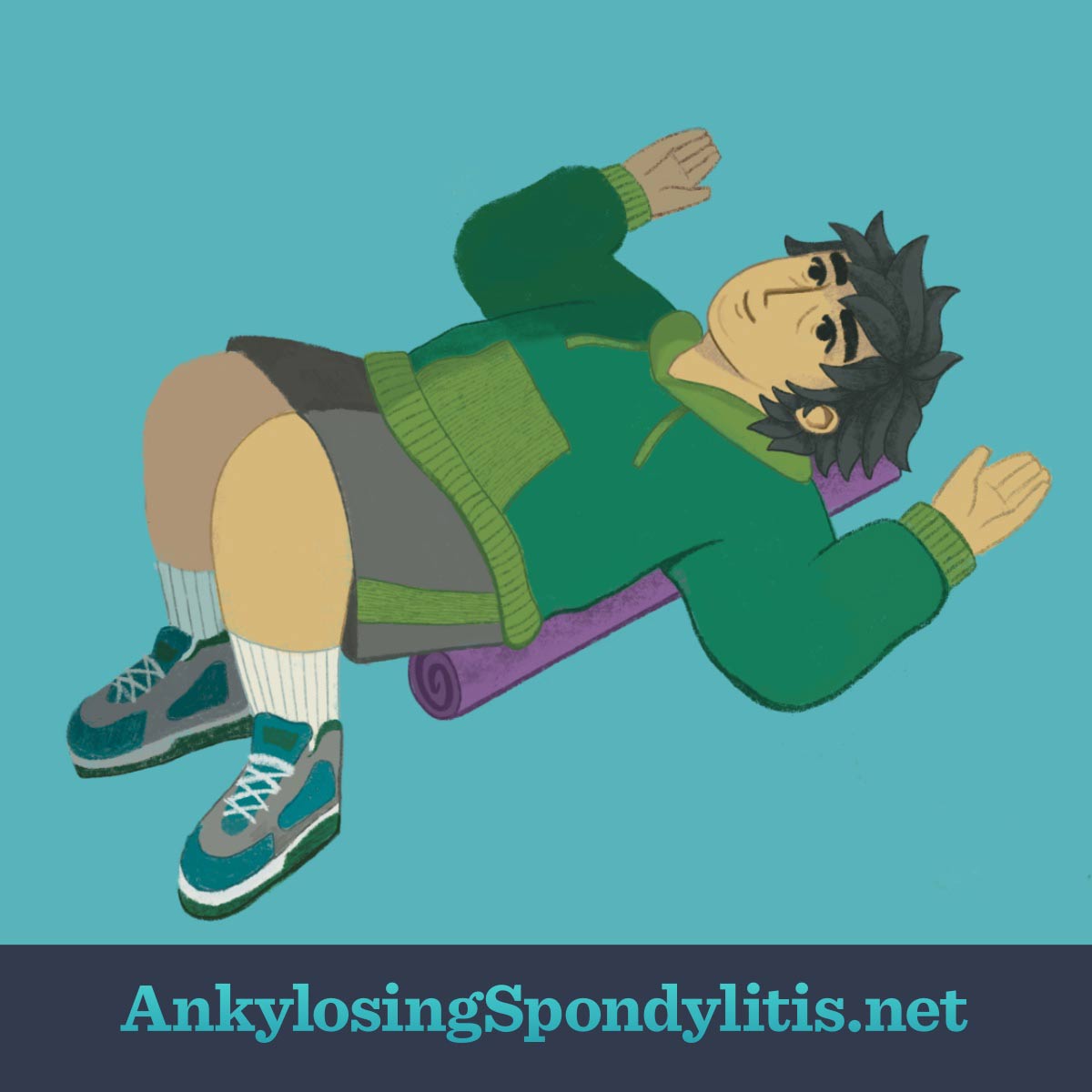 Clap
Begin in the position of the "t" stretch. Bring the arms up towards the ceiling and "clap" your hands. Bring them apart and relax back to floor.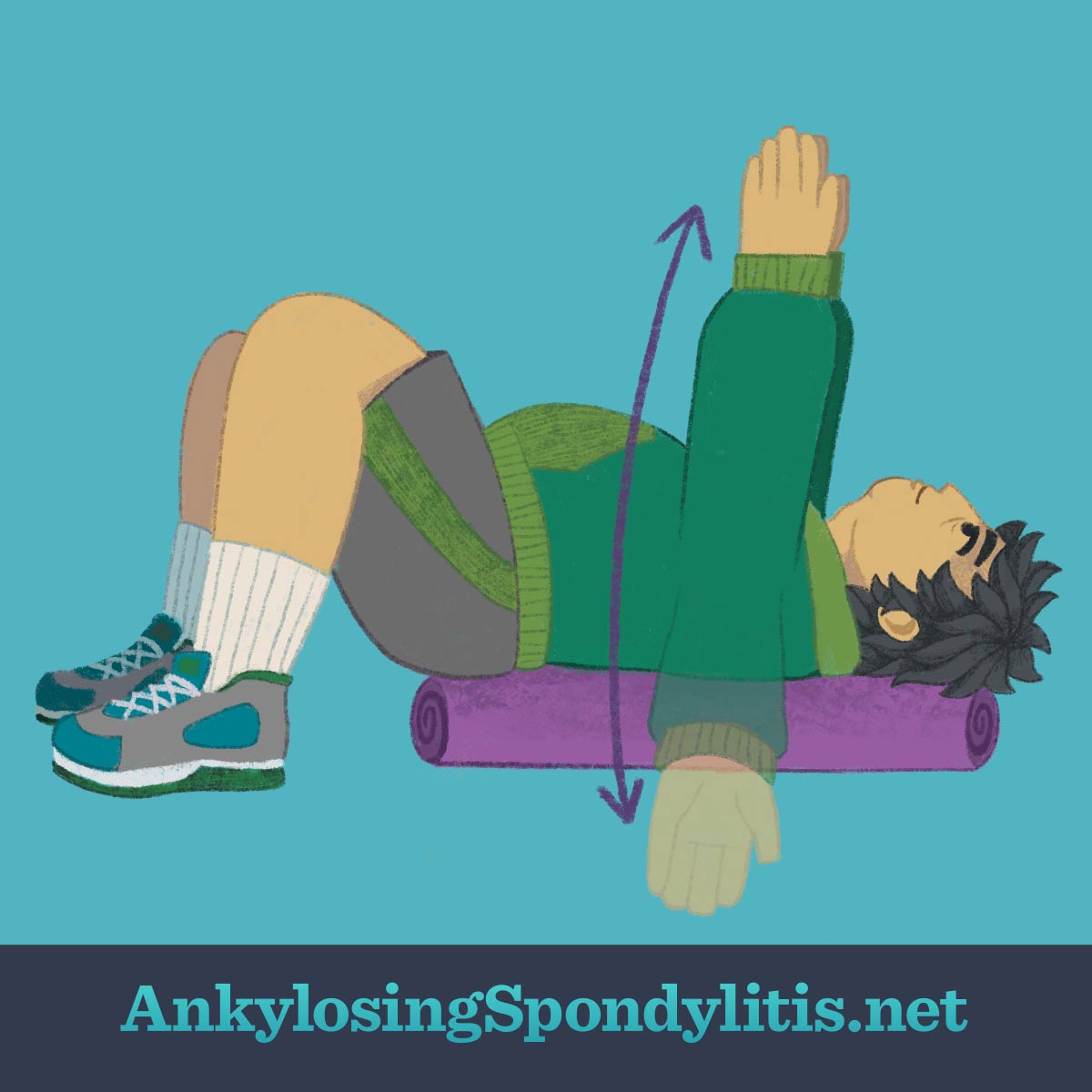 Arm raise
Begin with the arms at your sides. Reach one arm overhead, leading with your thumb. Try to reach all the way to the floor so that your upper arm is next to your ear. Alternate sides.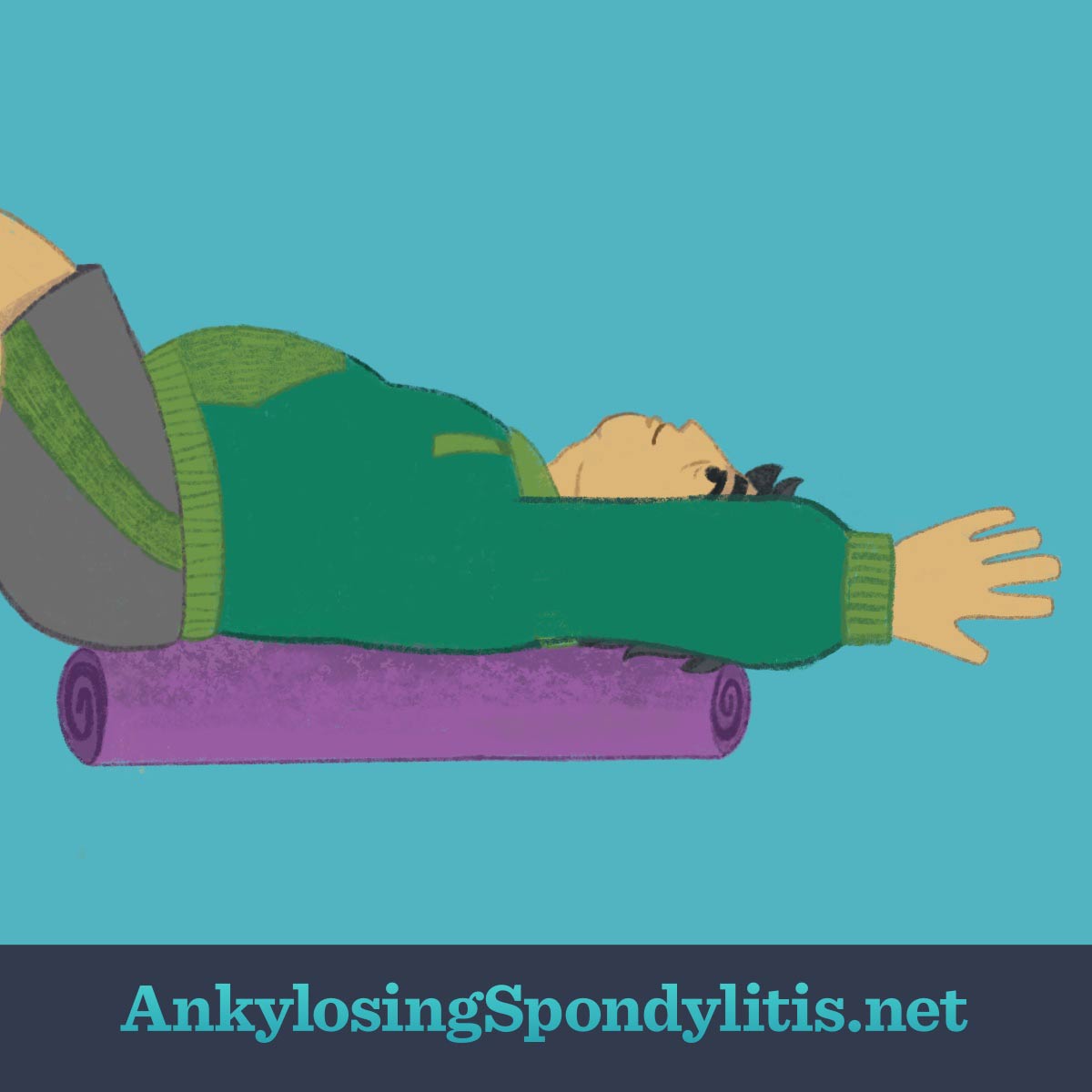 Scapular retractions
With the arms at your sides, bend both elbows to 90 degrees. Gently press the back of your elbows into the floor.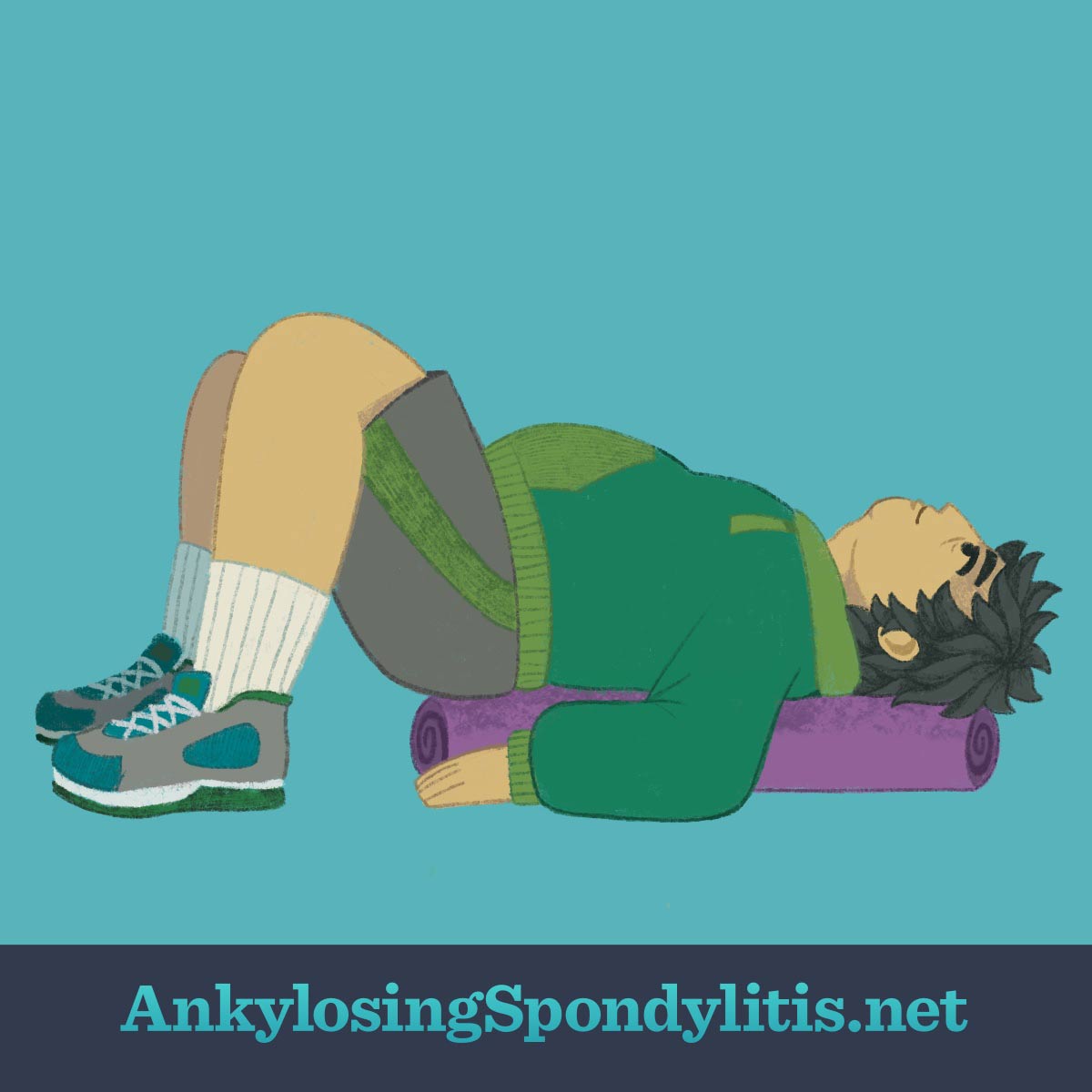 Snow angel
Begin with your arms at your sides, palms facing up. Slide your arms upwards towards your head, as if you were forming a snow angel. Try to maintain contact with the floor.
Modification: If this hurts your shoulders, do not raise the arms as high and bend the elbows as your slide the arms up.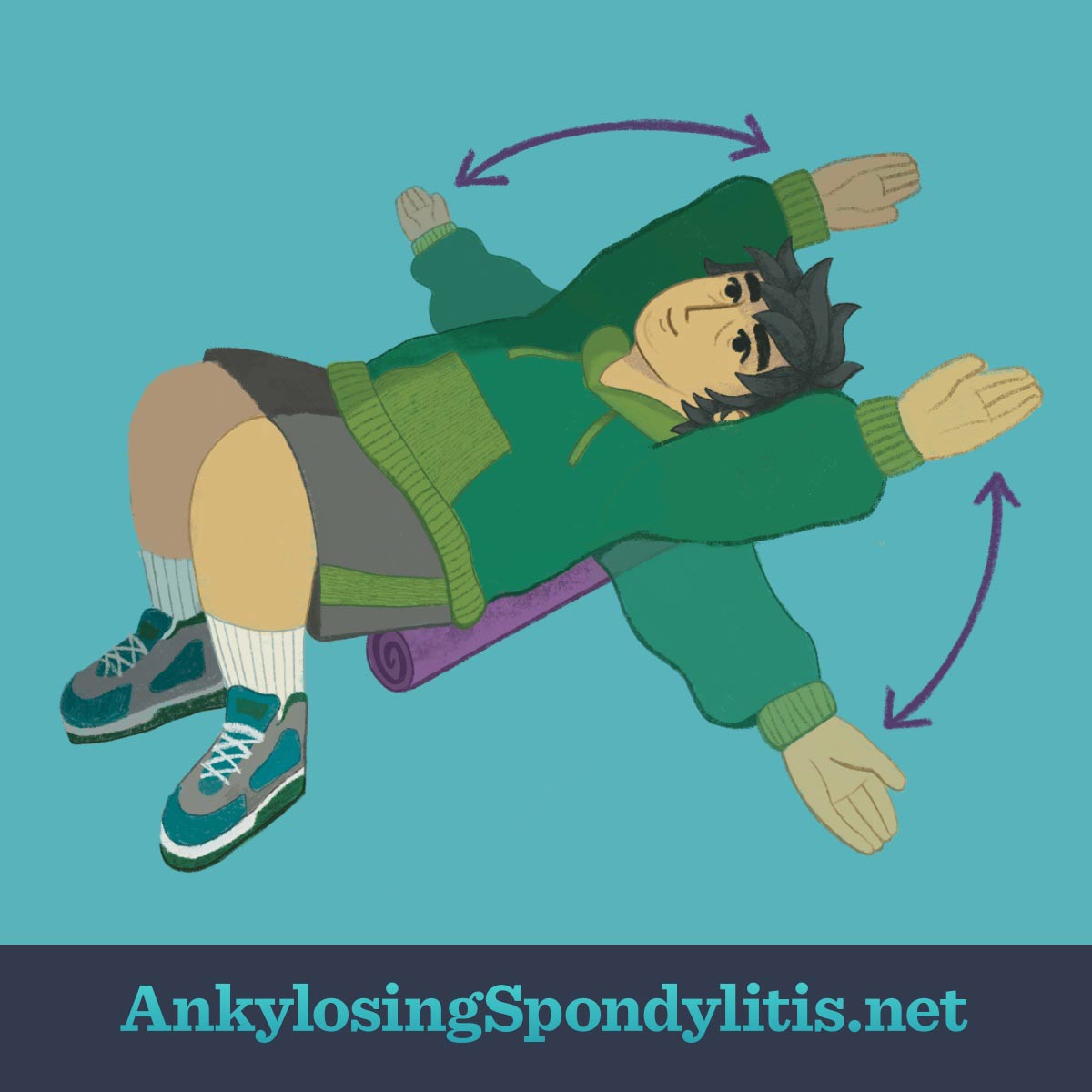 Perform each exercise for 1-2 minutes.
Always remember to never push through pain. Speak with your doctor before starting a new exercise program.
This article represents the opinions, thoughts, and experiences of the author; none of this content has been paid for by any advertiser. The AxialSpondyloarthritis.net team does not recommend or endorse any products or treatments discussed herein. Learn more about how we maintain editorial integrity
here
.

Community Poll
Do you notice worsening flares in colder weather?