How Pets Help Build Confidence and Joy With AxSpa
Last updated: January 2023
I remember reading an article in the NASS magazine about a young woman sharing her story entitled "Farming is my Therapy." I found that inspiring, and amazing to read that someone living with AxSpa could work in a farm. I cherish reading stories like this, as it can open my mind about new perspectives. That made reflect on the positive effect of being outdoors, doing something I love, and feeling committed and reliable. This can help me to live better with AxSpa.
In my life, I can do that with my pets, and I am grateful to them for making me doing what I do with them outdoors. I would not have imagined that I would be able to achieve such things I do with them. I have been back horse riding two years ago, after a long break due to not having the resources to ride in London, and then the diagnosis made me doubt and fear that riding was not for me anymore. I even heard from a physiotherapist that horse riding was the worst thing you could do with that condition...and that is my point here: who says until you have tried?
Finding a place to horseback ride
When I moved to Edinburgh, I started to talk to people straight away about horses, and ways I could have a go and see how I feel. I am glad I did! I have found a farm in a beautiful place, with lovely hacks on the hills with views over the city. I have met great people who became my friends, and I have reconnected with a big passion of mine! I have been sharing Grace, a gorgeous Irish draught, for the past two years and she has helped me to build confidence again in what I can do physically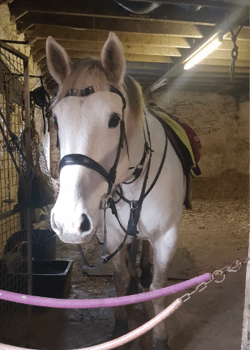 We have bonded, I have surprised myself in managing this sweet and yet wild and sensitive mare. I spend every Saturday with her, and other friends and horses, no matter the weather, I would not miss it. This is my therapy day, my "reset" day; I benefit physically, mentally, and emotionally by being outside all day, be with horses and surrounded by nature. It's powerful and fills me with peace, strength, and hope. And my back and other joints are fine!
I am pleased I did my own experiment to see if I could ride again. I am not here to say that we should not listen to healthcare professionals. In fact, I have a lot of respect for them, and I work with physiotherapists every week. Now in terms of physical activity suitable to our bodies, we are all different.
Let's take the example of running, which was thought not to be good for joints and therefore could trigger symptoms and flares for people with AxSpa. Well, I have met people who live with that condition and can run, for fun or even for competitions, without issues. So, that tells me that until I have tried something, I can't know if this suits me or not. I have never been a runner, and I am not tempted to start. I love walking and I got more into it over the years. Recently, I started to count my steps and joined some walking challenges.
Now I have the best pal to go for walks with!
My lovely dog has been with me for nearly a year, and I am grateful to her for all the great walks we do together, and the discoveries we do along the way.
I challenge myself physically with her, and I have a cheerleader, an over enthusiastic partner who is always up for it. This is it: she will go out no matter what! And so do I 😉 I have realized how resilient I can be with the weather and the fatigue, and the fact is I always feel much better after our walk. Sonate is also good at reminding me to have regular breaks when I work and go out in the garden for some fresh air and a bit of a play. My life has been better, healthier, and more balanced since I got her.
I just want to finish by saying a big thank you to my pets, and all the pets I meet every week. You make me happy, alive, and confident. I feel braver, stronger, and connected when I am with them 😊
This article represents the opinions, thoughts, and experiences of the author; none of this content has been paid for by any advertiser. The AxialSpondyloarthritis.net team does not recommend or endorse any products or treatments discussed herein. Learn more about how we maintain editorial integrity
here
.

Community Poll
Has changing your diet helped manage your pain and flares?